I am an absolute geek, but I also love to go deep down and meet our fish cousins! SCUBA Diving surely gives one the opportunity to explore and enjoy the enchanting life under the sea. Here are the Best 3 SCUBA Diving Gadgets this 2012-2013!
Underwater Scooter
SCUBA Diving is a passion of mine! (click to see my favourite diving website). Touring and looking at these countless magnificent sea creatures and the natural wonders underwater can be both exasperating and exhilarating at the same time. That's when Underwater Scooters come to the rescue! Thus, scuba divers don't need to tire themselves anymore.
Before, Underwater Scooters could only be used by a single diver. Nowadays, it already can transport up to 3 divers! These Diving Scooters are now designed and furnished with wings, which can carry 2 additional SCUBA divers without worrying of falling off, thus giving them a smooth and effortless riding. The scooter is also powered with LED battery, making it energy-efficient and longer lasting.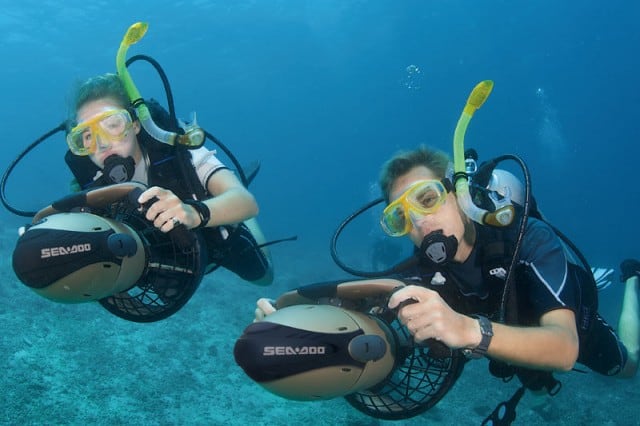 Underwater Scooter gives SCUBA divers seamless and unstrained diving.
The Underwater Scooter provides a convenient way of exploring and navigating the underwater realm.
Underwater Camera on Mask
Underwater camera on mask is the ultimate toy for SCUBA divers. It's the combination of a digital camera and mask all in one! Who doesn't want it? Divers won't miss those captivating creatures, wonderful scenes and underwater drama anymore. The gadget is easy to operate as well. Just like the ordinary cameras, the diver just needs to point the crosshair mark on the object he wishes to photograph before pressing the capture button. Users can also download the images or videos from the Underwater Camera to a computer and can edit them as much as they want. Awesome and cool, right?
With the invention of Underwater Cameras on masks; swimmers, snorkelers and scuba divers will never miss a second of the action happening underwater!
Just like typical cameras, the Underwater Camera on Mask has similar features and is also easy to operate.
GoPro HD Hero 2, Scuba Diving edition
GoPro HD Hero 2, Scuba Diving edition is definitely a SCUBA Diver's must have gadget today!The gadget comes with kits to lessen and possibly eliminate the blurred effect when using the camera under the water. Straps are also provided to keep the camera with you without worrying about losing it during one of your dives. A spare battery, which is very essential, is also available to keep you going and capture underwater moments for more.
Although GoPro HD Hero 2's name is enough to make you fuzzy and wonder about the technical details that come with it, this SCUBA diving gadget is actually very user-friendly due to its easy-to-use interface. Whether your goal is to capture a simple underwater fun with your diving buddies or chasing for that ultimate scuba diving pursuit, GoPro HD Hero 2, Scuba Diving edition can help you nail it and look like a HERO!
Capture great moments underwater with the GoPro HD Hero 2, Scuba Diving edition!
Diving is fun on its own, but if you can add a gadget or two it will only make us gadgets geeks a bit more excited… I can't wait to visit my nearest Reef!